Wider re-opening September 2020 FAQs
We hope this section will address many of the questions you may have about September. If we have not answered something, please email the main school address for parents (parents@grenoside.sheffield.sch.uk) or if your child is starting Grenoside Early Years Foundation Stage (newstarters@grenoside.sheffield.sch.uk) and we will do our best to help.
Please note: as we have found throughout this pandemic, the advice from both Government and PHE (Public Health England) is subject to frequent change. This means the guidance will be continually reviewed and measures will need to be changed/adapted to reflect the ever changing situation. We will do our best to keep families fully informed as we continue to move through this difficult time.
What will the start of the day look like?
We will not be operating under a staggered start. We believe we have enough outdoor space and entry points to allow children and adults to spread out. This will allow working families and those with siblings to start the day promptly.
Please click here for the page with more detailed information.
We are asking for one adult to accompany a child to come on to school site if needed.
For Y3, Y3/4 parents we are asking that you do not come into the area where the children will be lining up (outside the classrooms). You may drop off outside the school office and the bike shed area.
For Y5, Y5/6 and Y6 parents we are asking that you do not come into the area where the children will be lining up (on games court). You may drop off at the top of the path down the games court or by the gate entrance to the playground.
For parents waiting on the playground (Y4 at the park entrance end and Y1 and Y2 outside the classrooms) we remind you to keep your distances from other adults.
In all cases, we kindly ask that all adults promptly leave the school site. This is for the health and safety of the children, the staff and yourselves.
What will classrooms look like?
Tables and chairs will be set up in rows so that pupils are not facing each other as much as possible. Each pupil will have their own set of resources in an individual tray or folder on their desk space to help limit movement around the class. We have reduced some of the furniture and equipment in the classrooms but have tried to keep these as 'normal' as possible to help the children.
Will children be sat at a desk all day?
The guidance encourages children to socially distance where possible. However, it also appreciates this is extremely difficult with children. Therefore, as long as children remain within a consistent class bubble, they can move around and interact with others within their group. Teachers will encourage children to ask permission to leave their seat as this will aid social distancing. Children will be able to work collaboratively in pairs but group work requiring children to sit around a large table will not be possible. Children are also able to sit on a carpet (e.g. story time) if needed but will be encouraged to sit apart from each other as much as possible. Carpets will be regularly cleaned to further improve hygiene.
What about PE lessons?
We are asking children to come to school in suitable PE clothing on their allocated PE days. This could be a tracksuit, jogger bottoms, t-shirt and suitable trainers. By doing this, we are reducing the amount of items being brought in and out of school.
What about lunchtime?
Children will dine within their "bubble". They will go to the dining area after thoroughly washing hands and sit down immediately. Staff will bring their food choice to them at their table.
For ease, the menu has been reduced to 4 options Red: Main dish – hot meal Yellow: Jacket potato Green: Meat grab bag Blue: Veggie grab bag.
Please understand that the because of the way the food will now be served, every main food item will be paced onto the plate. Children will be encouraged to try all foods but of course, will not be forced to eat anything they do not like. It is important that children are fully aware of what will be on their plate before they choose that option on any given day.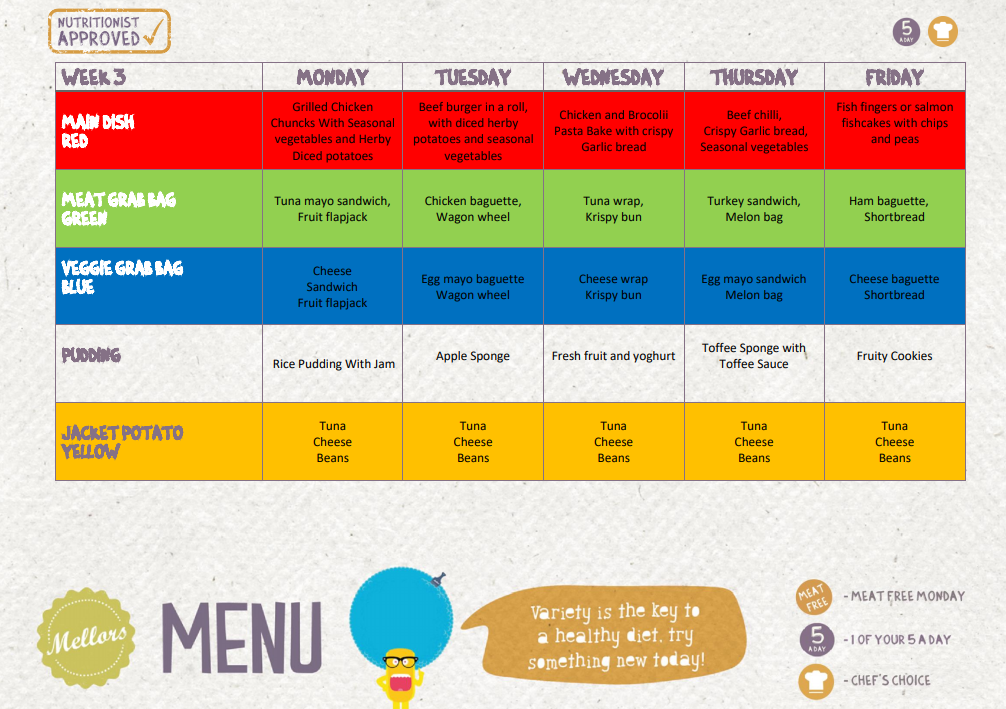 How will the end of the day work?
To best allow for adult not to congregate on the playground we will stagger the end of the day.
FS: 3.00pm (from the Foundation Stage playground outside the classrooms)
Y1 and Y2: 3.00pm (from the playground outside the classes)
Y3 and Y4: 3.15pm (Y3 and Y3/4 from outside the classes, Y4 from the playground)
Y5 and Y6: 3.15pm (from the playground)
Again, we ask that when you have collected your child/ren that you leave promptly. This will allow those waiting for siblings to have as much space as possible.
If you have children across age ranges then of course you can stay on the playground and wait for them. We will support Y3 and Y3/4 children to go round the playground to meet you for example. Please support us by talking to your child about the pick up routine.
Will there be any after school clubs?
Unfortunately, we are unable to run any after school clubs. This is to ensure children remain in consistent social bubbles. We are hoping that the guidance will change and we may be able to offer year group clubs sometime in the year.
What about Appletree Breakfast and After school club?
Please contact Appletree Childcare grenoside@appletreechildcare.org.uk for their information.